Infants & Toddlers
0-24 Months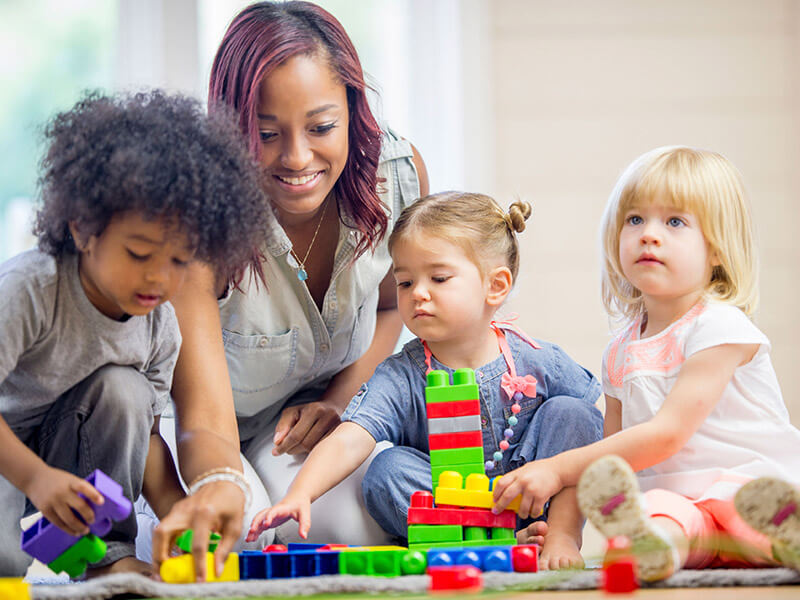 Endless Discoveries understands that it is difficult to leave your child in the care of someone other than yourself, but many families do not have any other option. Endless Discoveries is the perfect solution. We have personnel that are trained in CPR/First Aid, SIDS, Infant Brain Development, and Shaken Baby Syndrome, as well as other child development classes. Our teachers are caring to each child and treat each child as one of their own. We provide an environment that is safe, healthy, and stimulating to each child.
A variety of activities allow for both active and quiet times throughout the day, in addition to the individualized care and lessons we provide for each child. Endless Discoveries also provides online daily communication to parents that describes their child's eating, sleeping, diapering, and developmental activities throughout the day. Teachers are also required to keep a portfolio for each child that highlights developmental accomplishments, growth, or funny incidents. We also love to take pictures of the children, which we will share with parents.
Endless Discoveries Child Development Center will provide a comfortable place with a seat for mothers to breastfeed their child if they choose to do so. Parents may also provide breast milk for their child to be served while in our care. Upon request, Endless Discoveries will provide breastfeeding education materials and support resources.
Our curriculum in this age group will be a mixture of several different curriculum books in order to get the best individualized lessons for each child. Some curriculum books will be:
Baby Play by Masi and Leiderman; Gymboree
Toddler Play by Masi; Gymboree
Active Learning Series by Cryer, Harms, and Bourland; Addison-Wesley
Games to Play with Babies and Games to Play with Toddlers by Jackie Silberg
The Creative Curriculum® for Infants and Toddlers by Dombro, Colker, and Dodge; Teaching Strategies, Inc.
Baby Signs by Acredolo and Goodwyn
Frog Street Infant by Dr. Pam Schiller, et al
These curriculum books will provide a variety of different activities, ideas, and styles that each caregiver can choose from to create the perfect lesson plan for each child. Sign language will be taught to help each child communicate before they are able to speak and encourage language development when they are ready to speak.
Encouragement of Physical Activity
Endless Discoveries strongly believes and supports the need for physical activity each day. Regular physical activity has many health benefits including building healthy bones and muscles, improving muscular strength and endurance, reducing the risk for developing chronic disease risk factors, improving self-esteem, and reducing stress and anxiety. Furthermore, increased academic performance has been linked to physical activity through dynamic interaction. All age groups will be given opportunities for physical activity both indoors and outdoors each day. Infants will have supervised tummy time along with other activities that engage their large motor muscles. Endless Discoveries will encourage moderate to vigorous activities such as running, climbing, jumping, and skipping, to the extent of their abilities. Toddlers will participate in a minimum of 60 minutes per day. Most opportunities for active play will occur during outdoor play, but teachers will have activities planned in advance for indoor active play as needed. All children will partipcate each day in:
Two occasions of active play outdoors when weather permits.
Two or more structured or teacher-led activities or games that promote movement over the course of the day.
Continuous opportunities to develop and practice age-appropriate gross motor and movement skills.
When participating in physical activity, children's clothing should protect them from sun exposure and permit easy movement (not too loose and not too tight) that enables full participation in active play. Footwear should provide support for running and climbing. Hats may be worn to protect children from sun exposure.
Examples of appropriate clothing/footwear include:
Gym shoes or sturdy shoe equivalent.
Clothing for the weather, such as a lightweight, breathable jacket without any hood and neck strings.
Footwear that can come off while running or that provides insufficient support for climbing.
Clothing that can catch on playground equipment, such as those with drawstrings or loops.
Supervised Rest Times
Every age group will have supervised rest times. Children birth to 12 months will be able to rest as needed throughout the day and our caregivers will periodically perform sleep checks. Infants will be put on their backs to sleep with nothing allowed in the bed, including blankets and stuffed animals, to avoid suffocation. A physician's note is required for a sleep positioning device. Children aged Toddler will have a blocked off time on their schedule from 12 pm until 2 pm to rest. Children are provided cots or mats with sheets and blankets that are washed weekly or as needed when soiled.