Before & After-School
5 to 12 Year Olds
At Endless Discoveries, school-age children (kindergarten through age 12) experience an innovative before- and after-school program. We tailor our program to a club environment so that children can independently find engaging activities that build on their natural curiosity. Our school-age program is broken down into three age specific groups so each child is able to develop social skills such as listening, sharing and cooperation with other children their age. We provide an environment that is safe, healthy and stimulating by allowing an ample area and activities that are fun and age-appropriate.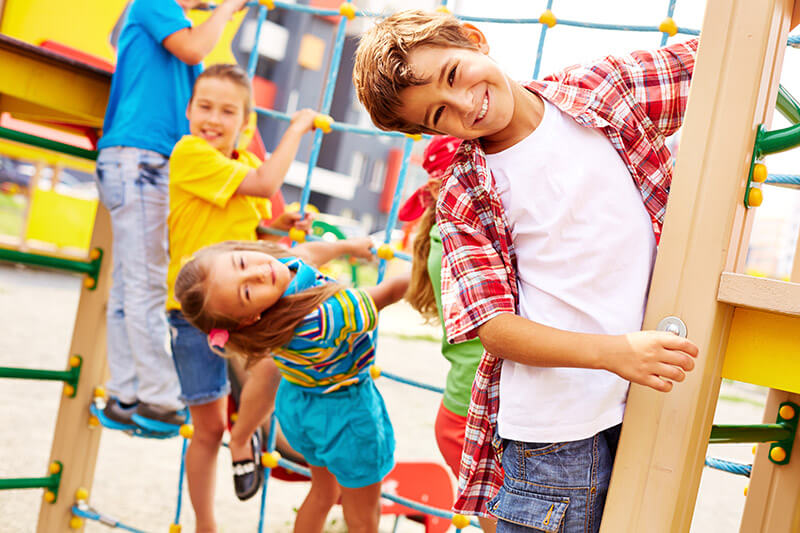 One of our goals is to find teachers that are caring to each child and treat each child as one of their own. It is important to us that we have teachers that are excited about teaching and can foster enriching activities. With an effective and positive style of guidance, energy, flexibility and a sense of humor, our teachers facilitate, guide and illustrate a love of learning that can be achieved through organized, fun activities.
Endless Discoveries provides transportation to and from local schools for the convenience of working parents. Additionally, we provide care during school breaks and strive to find fun and educational field trips during those breaks. For parents' peace of mind, our buses are driven by employees with a clean driving record and insured through our insurance company. We drive the safest vehicles that are specialized by child care use and maintain a log to ensure repairs are done in a timely manner.
Encouragement of Physical Activity
Endless Discoveries strongly believes and supports the need for physical activity each day. Regular physical activity has many health benefits including building healthy bones and muscles, improving muscular strength and endurance, reducing the risk for developing chronic disease risk factors, improving self-esteem, and reducing stress and anxiety. Furthermore, increased academic performance has been linked to physical activity through dynamic interaction. All age groups will be given opportunities for physical activity both indoors and outdoors each day. Endless Discoveries will encourage moderate to vigorous activities such as running, climbing, jumping, and skipping, to the extent of their abilities. Part-day School Age children will participate in a minimum of 30 minutes per day. Most opportunities for active play will occur during outdoor play, but teachers will have activities planned in advance for indoor active play as needed. All children will partipcate each day in:
Two occasions of active play outdoors when weather permits.
Two or more structured or teacher-led activities or games that promote movement over the course of the day.
Continuous opportunities to develop and practice age-appropriate gross motor and movement skills.
When participating in physical activity, children's clothing should protect them from sun exposure and permit easy movement (not too loose and not too tight) that enables full participation in active play. Footwear should provide support for running and climbing. Hats may be worn to protect children from sun exposure.
Examples of appropriate clothing/footwear include:
Gym shoes or sturdy shoe equivalent.
Clothing for the weather, such as a lightweight, breathable jacket without any hood and neck strings.
Footwear that can come off while running or that provides insufficient support for climbing.
Clothing that can catch on playground equipment, such as those with drawstrings or loops.
Supervised Rest Times
Every age group will have supervised rest times. Children are provided cots or mats with sheets and blankets that are washed weekly or as needed when soiled. School-Age children will be required to relax or rest for a minimum of 30 minutes during a full day of care.