Ms. Josephine
Floater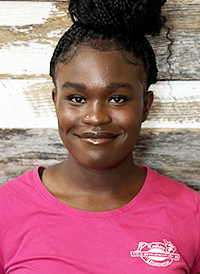 I have worked at Endless Discoveries as a Floater since November 2021. I have always been great with kids, so this job couldn't have happened at a better time. I am comfortable with all ages, but I really adore the younger ages. I started in Younger Toddlers, and I fell in love with those groups of babies. Even though they are two years old now, I can't help but think that without them, this would be just another job.
I recently attained my Associate's of Arts degree, and I am currently working toward my Bachelor's in Education. I want to be an English teacher because I love to read, especially if it's a story with metaphors, hidden meanings or poetry.
I am the middle child, so do what you want with that! Some of my hobbies include going out, cooking and eating. I have an unhealthy obsession with Taylor Swift and "The Office." They are what my personality revolves around. For four years during high school, I was a wrestler on varsity, and even years since that, I still make time to practice.