Ms. Jasmine
Lead Teacher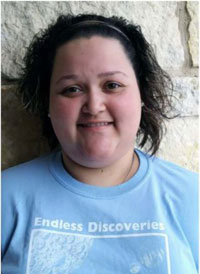 I am the lead teacher in the Pre-K 2 classroom, and I have worked at Endless Discoveries since March 2018.
The reason that I am in the early childhood field is because I want to change the way that children learn. I want them to think outside the box. Children have a unique way of thinking, and I want them to use that way of thinking.
I went to Tarrant County College and received an AAS, which stands for an Associates in Applied Science, in Child Develop- ment. I plan on going back to get my bachelor degree.
I have been married for four years and have a dog named Bailey. My favorite hobbies are shopping, cooking and hang- ing out with my family. I am a big Oklahoma Sooners fan and also a Cowboys fan.